Mash Poa Overview
Mash East Africa since its inception in 2003 has seen tremendous growth, not only in Kenya but East Africa. The company boasts of more than 40 air-conditioned, well-serviced state of the art buses with Plasma Screens.
The growth has seen the company being awarded a trophy and a certificate as one with the best well-maintained buses in the coast province from the EAST AFRICA ROAD SAFETY AWARD 2009. Among the latest developments that have seen Mash having a niche over its competitors, is in the incorporation that saw the name and directors' change from the previous Mash bus company limited to Mash East Africa a broader aspect that has seen the company expanding its wings to all corners, and making it more vibrant.
The company unlike other passenger transport companies, Mash East Africa is run by professionals and has the best set up management team most of whom had their training in abroad and worked for the giant STAGECOACH INTERNATIONAL (UK) in Kenya. By using Mash services you will enjoy 24-security surveillance monitored by our GPRS system team. You will have an over speed controlled buses which over speeding alerts are automatically generated and sent to over speeding controlling unit.
You will also be using the most luxurious well build Scania buses. We have different premier class buses raging from the Mash cool class, the LAXADONTA the NITROGENIC VIP CLASS-Air Conditioned. We also have the MASH POA EXECUTIVE CLASS. Mash also have the imported special class KING LONG air-conditioned buses. All our buses are fitted with DVD, PLASMA SONNY, AND LG SCREEN TV to even add comfort and enjoyment on your journey.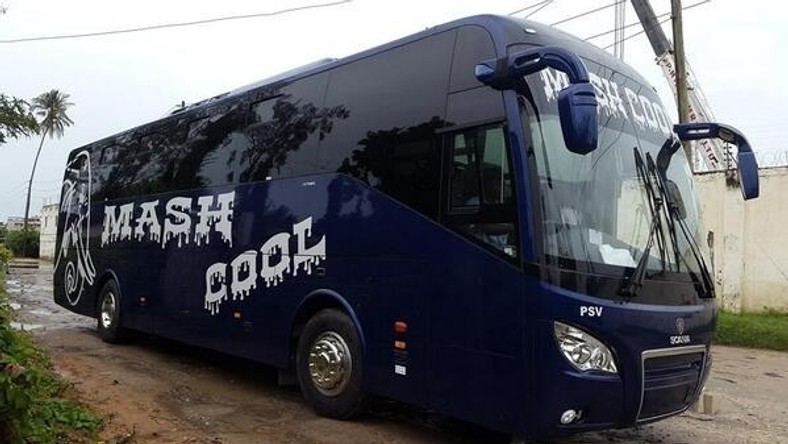 Mash Poa Bus Services Ltd
Customers will also have the benefit of traveling in our special 48 setter buses designed for the comfort and luxurious of long highway journeys. We normal serve with refreshments, biscuits in all our VIP Class buses. Our drivers are well trained and we boast of being one of the passenger bus companies with a full-fledged training school, with high-qualified trainers and resource personnel. We value safety and competence in all our drivers and all are subject to refresher courses as dimmed necessary by our training team.
At Mash all our buses have speed governors integrated, furthermore, they are also monitored by our tracking system. At Mash, drivers work on a planned bus time schedule and on a shift basis to avoid any fatigue on the road, which makes us plan your traveling even more efficiently. We ensure our drivers go for an eye test after every 12 months especially those above 40 years to avoid poor vision on the road. At Mash, all our drivers are subject to pass the alcohol blow test before they are authorized to drive.
Mash Poa Parcel
At MASH EAST AFRICA Parcel Bus constructed specifically with our customers in mind and has the capability of carrying up to a maximum of 10 tones luggage's of different kinds. Our bus is built with features which guarantee the safety and professional care of your valuable cargo to various destinations. All of our staff are well trained to ensure a safe and secure means of transporting your cargo in a stress-free environment. We are entrusted with cargo and mails to all major cities and towns in Kenya and Uganda (Kampala).
Mash Poa Online Booking
Go to our booking website by clicking here
Mash Poa Prices
Mash Poa Bus Services Ltd – Nairobi Branch is located in Mash Bldg, Accra Rd. For more information about Mash Bus Services Ltd – Nairobi Branch sees the contacts below:
Mash Poa Contacts
Business Name: Mash Bus Services Ltd – Nairobi Branch
Business Category: Bus Companies
Physical Address: Mash Bldg, Accra Rd
Address: P.O.Box: 17604-00500 Enterprise Rd
City/Town: Nairobi
County: Nairobi
Country: Kenya
Phone Number:
Fax:
Mobile Number: +254-753999260
Email Address:
Website: http://masheastafrica.com/wp/
MASH COOL HIGER A180. (INTERIOR AND EXTERIOR)